Memorial Lecture and Seminar conducted on 15.11.2022
Re-union of 1977-1980 Batch
All Kerala Patriotic Song Competion for College Students
Deopartment of Hindi with the financial support of Union Bank of India conducted all kerala Hindi patriotic song competition on 29.09.2022. Union bank regional manager Mr. T Narayanan was the chief guest of the programme and and Dr.Rakhi Balagopal delivered the key note address on the occasion. Madappally Government Arts and science College, IHRD Thamarassery and Payyannur College won first, second and third prize respectively.
Hindi Day celebration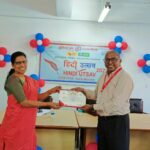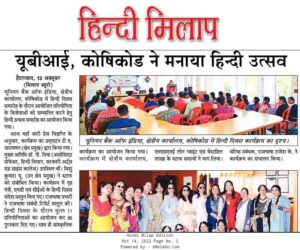 പ്രൊഫസർ ടി . എം. രാജഗോപാൽ അനുസ്മരണം
In the memory of Prof. T.M. Rajagopal, the Dept. of Hindi organized a lecture program in the college auditorium on 16 September 2022. The programme was Inaugurated by the famous short story writer and editor Shri Santosh Supekar from Ujjain U.P. Book release of Dr Arsu (Director, Bhasha Samanvay Vedi, Translator and former Hod of Hindi Dept,, University of Calicut) and scholarship distribution for the students was also included in the program.