Achiever's Day & Smart room Inauguration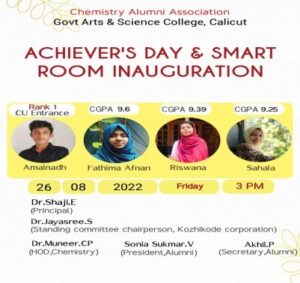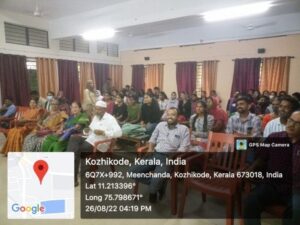 The Chemistry Alumni Association sponsored a smart room to the department by spending an amount of Rs. 92,360/-, which was collected from various batches. The smart room was inaugurated by Dr. Jayasree S, former HOD of the department and former Principal of the college and now the Standing Committee Chairperson for Health, Kozhikode Coorporation. Alumni Secretary Mr. Akhil P welcomed the gathering. Mrs. Sonia Sukumar presided over the function. The Principal Dr. Edakott Shaji delivered key note address. Many former teachers and students attended the meeting. Many academic awards were distributed in the function. Cash awards sponsored by former teachers were given to toppers of University exams. Sreepriya and Athulya AS of 2017-20 batch, Anusree T.P and Aparna A of 2018-21 batch and Fathima Afnan and Rizwana of 2019-22 batch received the awards. Class toppers of the last year, Fathima Afnan, Rizwana and Sahala were given awards sponsored by former HOD, Dr. Jayasree. The first rank holder of Calicut University Entrance Exam 2021-22 Amalnadh was given a special award, sponsored by the department. A video presentation was given by Dr. Sujith A, Associate Professor and HOD, Department of Chemistry, NIT Calicut.
For more photos (Click here)
Independence Day Celebration 2022
The department celebrated Independence day colour fully. The independence day talk was given by Sri. Sathyan V.T, Assistant Professor, Department of Political Science on 12.08.2022. Sweet was distributed among all students and staff of the department. Second year students also organized some inter-department competitions.